Hey, Im John and wanted to share my bike with you guys!....and hopefully get out on some rides.
I Love these bikes!...I have owned a few different bikes in the past but my favorite has always been the 650L. I bought a 2005 XR650L about 3 years ago and put a few little aftermarket parts to make it better suited for traveling....I put about 20,000 miles on it traveling around the Pacific Northwest with basically all thats shown in the pic, plus a small camel back.....
MY ORIGINAL HONDA
I felt I needed more power so I sold it and picked up a 2002 plated XR650R. It was an awesome bike but I missed having, all the lights working when the bike was not on, a battery to run my GPS, nice bright lights for motorist to see, and a stronger rear subframe......I basically regretted selling my 650L, so I sold the XR650R and found myself a new 2007 XR650L with only 1000 miles on it, then a week later I saw my original XR650L for sale at a local motorcycle shop. I bought the new bike from a guy on craigslist that bought it and rode it one summer and parked it....It was in perfect shape and bone stock.
HERE IS THE 2007 IN MY GARAGE, GETTING READY TO GET KITTED OUT.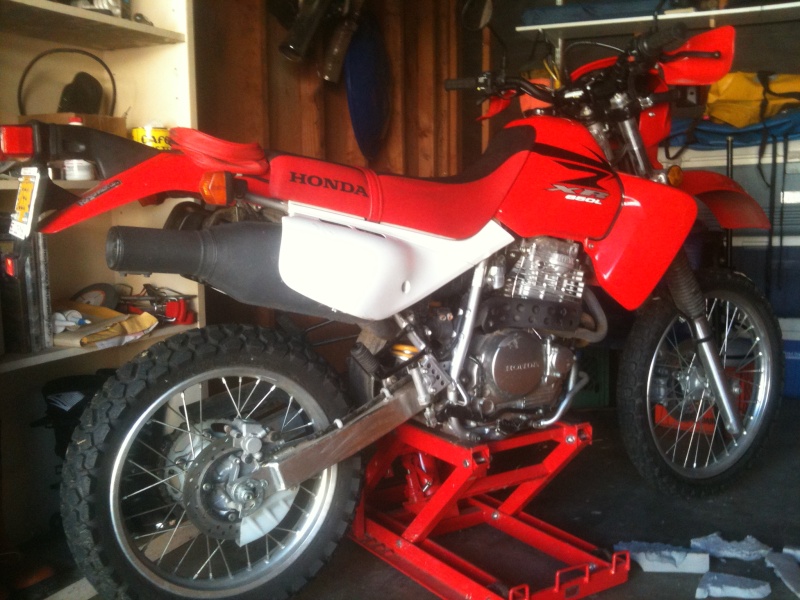 After boxes and boxes and boxes showed up I started ripping it apart and rebuilding it to something that suites me better. I know some guys like to make these bikes as light as possible by removing the battery, passenger pegs, smog stuff and other little things. I am not one of those guys, I weigh 250 and Im not worried about a few pounds here or there, I just want it to be strong and reliable.
So far I have put on:
ProTaper 1 1/8 bars
ProTaper Risers
Acerbis 5.8 Tank
Cycra Hand Guards
Gps Ram Mount
Cee Baileys Windshield
Wolfman tail bag
Wolfman Fender bag
Custom front blinker Bracket
FMF High Flow Header
Big Gun Muffler
K&N air cleaner
Rejetted Carb
FMF Carb Needle
Rear Rack
Happy Trails SU rack
Pelican 1430 sidecase panniers
Pelican 1400 top box
and a 85w/55w headlight bulb.
I am still getting the carb dialed in, and would like to get some big meats on it when these tires wear out, and also some oversized foot pegs, but I think thats about it.
MY BIKE AFTER I REWORKED IT.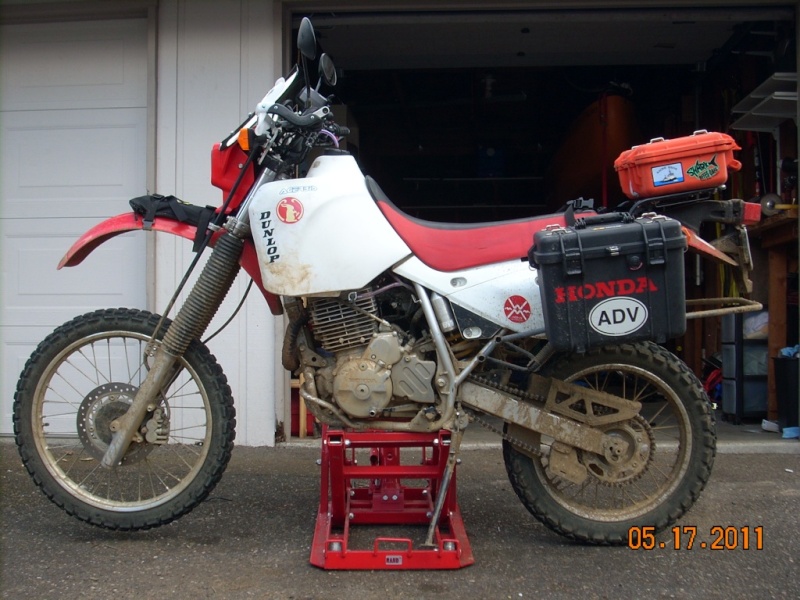 The Pelican side boxes are lighter and way cheaper than the aluminum boxes, I also looked into ammo cans but those are almost three time the weight..... I do alot of rafting and was able to get a pro deal on the Pelican Cases which made it easy to decide what to get... as far as space I can fit everything I need to go for a week long trip or longer into these boxes and a little on the seat no problem. The only thing else I am going to do is mount a couple water bottle holders on the backside for stove fuel.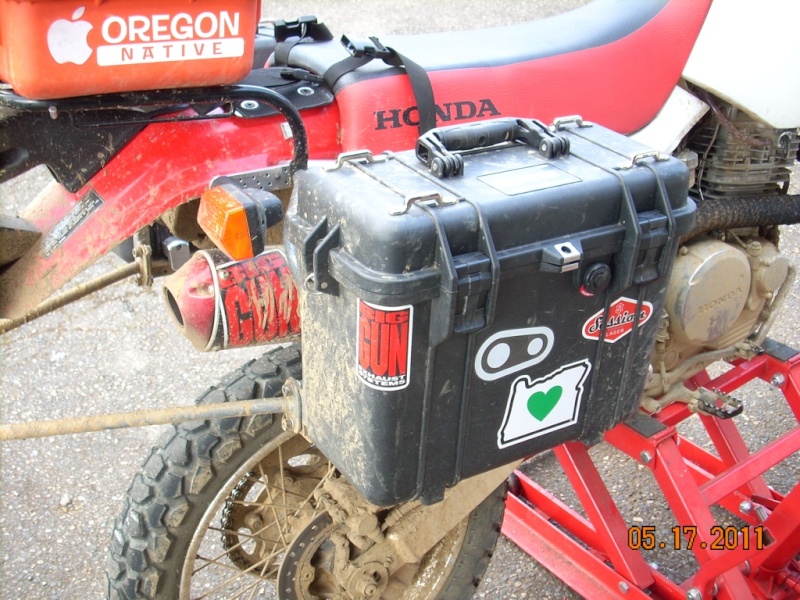 I have crashed the bike a couple time with the side racks on and they have held up alright, they deffienently got bent a little in the crashes but I was always able to bend them back....I was going to gusset them up and stengthen them, but I guess I would rather the racks be what bends, not my frame...I also hit a log going 15-20mph with the left box and it didnt hurt the box, just threw me into some ferns and again bent the rack a little...they still look pretty straight though. The nice part is when I get to camp it takes about 1 minute to get all three boxes off.